The treatment method that helps to maintain, restore, and maximize a person's physical strength, function, mobility and overall well-being by addressing the underlying physical issues that can be caused by ageing, injury, disorders, diseases, conditions or environmental factors is the physiotherapy.
The physiotherapists in Chennai are so concerned to identify and maximize the quality of life and movement potential within the spheres that includes promotion, prevention, treatment, and rehabilitation.
Who is a Physiotherapist?
A physiotherapist or physical therapist usually works with patients who have had an illness or injury that has impacted their ability to perform their normal activities. A doctor may usually refer the patients to our lady physiotherapist in Chennai – Dr. P. S. Chitra from Vinita Hospital to help them manage, pain, mobility, balance, and motor function by developing a customized treatment plan.
Role of a Physiotherapists in Chennai
The physiotherapists in Chennai can help patients in the following process:
Undertake a comprehensive assessment/examination of the patient's needs.
Evaluate the findings from the assessment/examination to make clinical judgements regarding their patients.
Formulate a prognosis, diagnosis and treatment plan.
Provide consultation within their expertise and also refer to another healthcare professional if necessary.
Implement a physical therapist intervention or treatment programme.
Determine the outcomes of any treatments/interventions.
Make recommendations for self-management.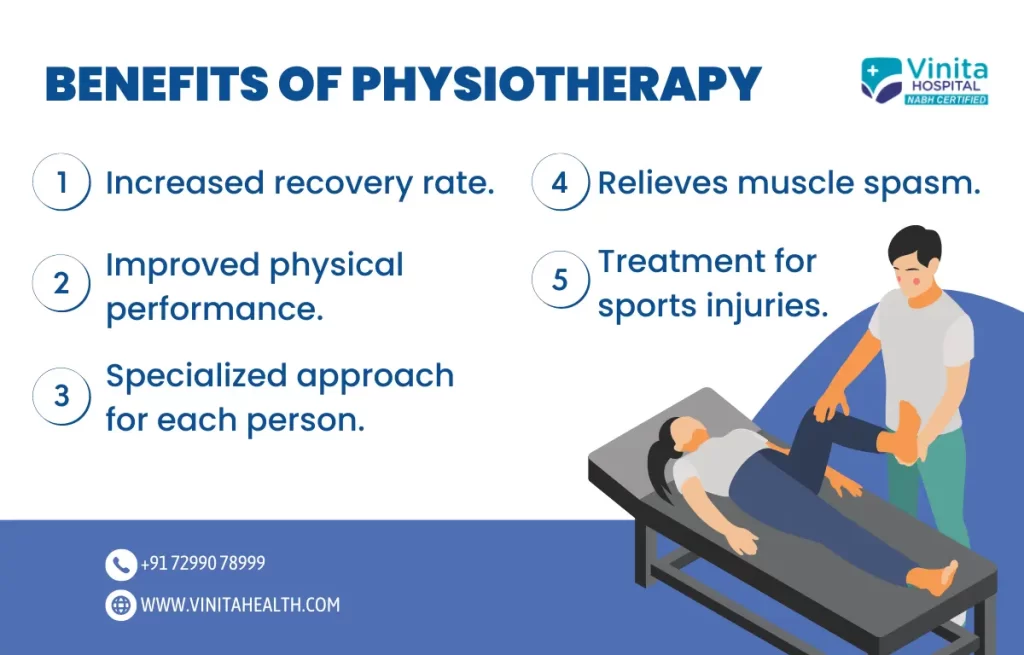 Conditions Treated by a Physiotherapist
The good physiotherapist in Chennai can treat a vast number of injuries and conditions. Some examples include:
Orthopaedic – Arthritis, backpain, foot conditions, knee conditions, carpal tunnel syndrome, joint disorders, etc.
Autoimmune – Raynaud's syndrome, rheumatoid arthritis, fibromyalgia, etc.
Neurological – Neurological conditions like Alzheimer's disease, neuropathy (nerve damage), multiple sclerosis, cerebral palsy, concussion, stroke, etc. 
Chronic conditions – Diabetes, asthma, high blood pressure, obesity, etc. also require physiotherapy treatment in Chennai. 
General wellness.
What to Expect from the Physiotherapist?
When a patient makes an appointment with the physiotherapists in Chennai, the patient will probably be asked to wear comfortable, loose clothing and good shoes. This is because the patients will be asked to engage in some physical movement.
At the first appointment, a patient's medical history and records will be completely reviewed. For this, X-rays and other tests will be conducted. Then our lady physiotherapist in Chennai – Dr. P. S. Chitra will enquire about your medical history, illness, or injury that they are treating. It is very important to be completely honest with your responses. 
Common Physiotherapy Treatments
The physiotherapists in Chennai usually provide quite effective treatments to speed up the healing process for patients with strains in the spine, arthritis, amputations, or who have undergone any sort of surgical treatments.
Some of the common treatments that are handled by the physiotherapist include:
Range of Motion Exercises
The body needs adequate rest at the early stages of recovery from bone injuries or surgery but persistent immobility for long periods may actually lengthen the healing process. This physiotherapy treatment in Chennai encourages movement, and joint mobility and facilitate circulation. Also, it is beneficial to prevent muscle atrophy and related postural problems.
Electrotherapy
It is a energy-based physiotherapy technique in which electrical stimulation is delivered to the patients with the help of electrodes attached to the skin. Electrotherapy is performed by the good physiotherapist in Chennai in patients with paralysis or severely reduced range of motion.
Soft Tissue Mobilisation
This physiotherapy treatment in Chennai is used to treat the pain associated with sports injuries and also helps to ensure adequate blood circulation, and lymph flow and reduce swelling around the inflamed joints.
Cryotherapy and Heat Therapy
Professional athletes and people with desktops jobs often get sore and stiff muscles. In such a case, the physiotherapists in Chennai apply heat or cold to the affected areas to relieve them of muscle tightness in anywhere in the body area. In heat therapy, paraffin wax or hot packs are applied. Cryotherapy involves an application of ice pack or ice massage.
Kinesio Taping
In this procedure, a good physiotherapist in Chennai will apply Kinesio tape to the patient's skin for stabilizing the joints and muscles while the patient undergoes the treatment. Also, the Kinesio tape does not obstruct any movement during the range of motion exercises.
Best Physiotherapist in Chennai
Dr. P. S. Chitra (BPT, MIAP, MSc (Psy) – She is the best lady physiotherapist in Chennai at Vinita Hospital. She holds 22 years of expertise and provides individualized care for the patients with advanced techniques like dry needling, taping, manipulation, pelvic floor rehab, cupping therapy, myofascial release to all types of joint and muscle injuries or disorders to ensure help them lead a quality life.
Conclusion
At Vinita Hospital, the physiotherapists in Chennai work to improve the patient's health by combining their knowledge and experience besides their problem-solving skills to develop a successful treatment plan for patients with a best possible care.
Read also How to Remove Kidney Stones.