According to recent data, the prevalence of chronic kidney disease (stage 3 or higher) in Tamil Nadu is 8.7%, and there is no observed difference in prevalence based on gender. Unfortunately, many people with kidney disorders may not realize they have the condition at an early stage, and some may not seek the best possible care from the best nephrologist in Chennai. As a result, the disease may progress and lead to more severe complications.
Overview
The Department of Nephrology deals with the paediatric and adult study of the kidneys or renal and its diseases. A medical doctor who deals with nephrology is a Nephrologist. They are also known as nephrology doctors, nephrology specialists, or kidney doctors. The main role of the nephrologist is to deal with diagnosing and managing kidney diseases. 
This shows us how important it is to have healthy kidneys and to be proactive. It is always better to visit a nephrology hospital like the Vinita Hospital and consult with the best nephrologist in Chennai to get advanced treatment with cutting-edge techniques.
The Best Nephrologist in Chennai
The nephrologists at Vinita Hospital have created a reputation for providing cutting-edge treatments for kidney disorders by identifying the root cause of the disease and treating the patient accordingly with advanced treatment procedures. Some of the best nephrologists here are:
Dr. Sarita Dasari
(MBBS, MD (Internal Medicine)
Dr. Sarita Dasari is a well-known nephrologist in Chennai having more than three decades of experience in the department of nephrology. She has practiced in Apollo Spectra Hospitals and is currently associated with Vinita Hospital to handle the patients with a modern-driven approach.
She specializes in providing state-of-the-art treatments in treating urinary tract/bladder stones, adult nephrology, transplant nephrology, renal replacement therapy, kidney transplant, etc. She is much appreciated for her dedication besides providing compassion and care by helping the patients restore to their normal activities.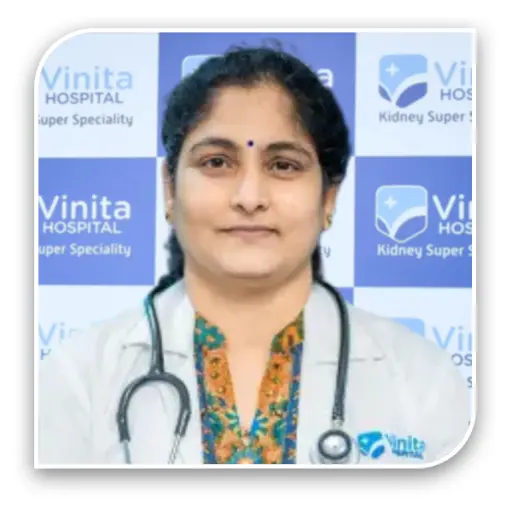 Dr. K. Anitha Jagannath
(MD, DNB)
Dr. K. Anitha Jagannath is the best nephrology specialist in Chennai and has more than 17 years of expertise in the medical field. She is highly skilled and proficient in providing comprehensive services by treating patients with both primary and complex kidney issues. She is specialized in kidney transplant, lithotripsy, renal transplant, kidney stone hospital, and dialysis/ haemodialysis. Her patients approach her for understanding their problems by explaining the cause and treatment options to help them overcome the disease and make them lead an active lifestyle.
Conditions Treated by a Nephrologist
The nephrologist works with the patient to diagnose and treat the most common treats conditions like:
Acute renal failure.
Polycystic kidney disease (PKD).
Chronic kidney disease (CKD).
Kidney stones.
Blood or protein in the urine.
Kidney infections.
Hemolytic uremic syndrome.
Nephrotic syndrome.
Renal artery stenosis.
End-stage kidney disease.
When to Consult a Nephrologist?
Your primary healthcare provider can help you by preventing and treating the early stages of kidney disease. However, sometimes these early stages may not show any signs or symptoms or may have nonspecific symptoms such as sleep disorders, fatigue, and change in urination.
Regular testing will be made by the best nephrology doctor in Chennai to monitor your kidney function, particularly if you're at risk for kidney disease relating to high blood pressure, diabetes, heart disease, and a family history of kidney problems.
If your test results indicate rapid or continuing deterioration of kidney function, your doctor will ask you to get immediate medical attention from the best nephrologist in Chennai especially if you have the below-mentioned symptoms:
Pressure and pain in the chest.
Lack of sleep.
Difficulty in breathing.
Dry and scaly skin.
Frequent urination.
Tiredness.
Swelling around the eyes.
Loss of appetite.
Anaemia.
Muscle cramping.
Swollen ankles and feet.
Poor concentration.
Changes in urine output.
Decreased sex drive.
Hyperkalaemia.
Fluid retention.
Vomiting and nausea.
How do you become a nephrologist? 
Becoming a nephrologist requires extensive education and training. Here are the general steps:
Complete a Pre-Medical Undergraduate Degree: Most aspiring nephrologists start by earning a four-year undergraduate degree, typically in a science-related field.
Attend Medical School: After completing undergraduate studies, you need to attend medical school, which usually takes four years to complete.
Complete a Residency Program: Following medical school, you'll need to complete a residency program in internal medicine, which generally lasts three years.
Specialize in Nephrology: After finishing your residency program, you'll need to pursue a fellowship in nephrology, which typically lasts two to three years. During this fellowship, you will receive specialized training in the diagnosis and treatment of kidney-related conditions.
Become Certified: After completing the fellowship, you'll need to pass the American Board of Internal Medicine (ABIM) certification exam in Nephrology to become a board-certified Nephrologist.
Continuing Education: The best nephrologist in Chennai is required to continue their education to keep their certification current.
What types of tests and procedures does a nephrologist perform? 
A nephrologist is a medical doctor who specializes in the diagnosis, treatment, and management of kidney-related conditions. They use a variety of tests and procedures to diagnose and manage these conditions. Here are some of the most common tests and procedures that the best nephrologist in Chennai may perform:
Urinalysis: This is a test that examines a urine sample for the presence of abnormal substances such as protein, blood, or sugar, which can be indicative of kidney damage or disease.
Blood Tests: Blood tests are used to evaluate kidney function by measuring levels of substances like creatinine, urea, and electrolytes.
Kidney Biopsy: In this procedure, a small piece of kidney tissue is removed and examined under a microscope to diagnose or monitor kidney disease.
Ultrasound: This test uses sound waves to produce images of the kidneys and surrounding structures to evaluate their size, shape, and function.
CT Scan/MRI: These imaging tests can provide more detailed images of the kidneys, ureters, and bladder, and can help detect abnormalities, such as tumors or cysts.
Dialysis: Nephrologists may manage patients who require dialysis, which is a process that removes waste and excess fluids from the blood when the kidneys are unable to do so.
Kidney Transplantation: Nephrologists may also manage patients who have undergone kidney transplantation or require a transplant evaluation.
Medication Management: Nephrologists prescribe and manage medications to treat kidney-related conditions such as hypertension, kidney stones, or glomerulonephritis.
Nutritional Management: A nephrologist may also provide dietary guidance to help manage conditions such as chronic kidney disease or diabetes.
In addition to these tests and procedures, a nephrologist also provides ongoing care to patients with kidney-related conditions and works with a team of healthcare professionals, including primary care physicians, surgeons, and dietitians, to manage and optimize the care of their patients.
Diagnosis and Treatment
Diagnosis
As soon as you see the signs and symptoms of kidney problems you need to consult with the best nephrologist in Chennai because he/she will allow you to go through a series of tests to diagnose the accurate cause of the problem. Here are a few important procedures that are followed by the best nephrology doctor in Chennai to diagnose kidney disease.
Glomerular Filtration Rate (GFR) – To monitor the filtration rate of the kidney along with its functions to determine the stage of kidney disease.
Urine Analysis – The urine sample is observed using a microscope to look for bacterial infections, bleeding, or any other signs of kidney problems.
Kidney Ultrasound – This procedure is done to get clear images of the kidneys using sound waves to detect stones and cysts and causes for the blockage of urine.
CT Scan – It helps to take sectional pictures of the organs through X-ray to give clear details of the kidney problems.
Kidney Biopsy – A small piece of the tissue is extracted from the diseased kidney to understand the severity of the issue.
Magnetic Resonance Imaging (MRI) Scan – High-resolution images are captured through a scanner which helps the best nephrology doctor in Chennai to diagnose the problem with great clarity.
Treatment Procedures
Most often kidney diseases are caused because of any other underlying issue such as cholesterol, diabetes, or high blood pressure levels. They are easy to cure when diagnosed earlier by the best nephrology doctor depending on the severity of the disease.
Some of the effective treatment methods handled by the best nephrology specialist in Chennai for kidney problems include:
Nephrostomy – It is a procedure done by passing a catheter through the skin to reach the kidneys to drain out the blocked urine in the kidneys.
Lithotripsy – This procedure is performed by the best nephrology specialist in Chennai using a machine to project ultrasound shock waves to pass through the body to break large kidney stones into small pieces.
Nephrectomy – It is performed in patients who suffer from kidney cancer and other severe kidney disorders where the damaged kidney will be completely removed.
Dialysis – It is a method to purify the blood with the help of machines and is also done when the kidneys are close to failing or damaged completely for dialysis in Chennai.
Kidney Transplant – It is a procedure done when both kidneys do not function. Transplantation is done by obtaining a healthy kidney from a living donor or a deceased organ donor.
When You Need to See the Nephrologist for Kidney Stone
A nephrologist is a specialist in kidney health and diseases. You should see a nephrologist in Chennai if you experience symptoms such as frequent urination, swelling, high blood pressure, and dark-colored urine, or if you have known kidney disease or are at risk for developing one. Additionally, your primary care doctor may refer you to a nephrologist for further evaluation and management of kidney-related health issues.
What Does a Nephrologist Do?
A nephrologist or kidney specialist in Chennai performs the following tasks:
Diagnosis: To evaluate kidney conditions such as chronic kidney disease, acute kidney injury, kidney stones, and kidney infections. They use various diagnostic tests such as blood tests, urine tests, kidney biopsy, and imaging studies.
Treatment: To provide medical treatment for kidney diseases and disorders. They prescribe medications, recommend lifestyle changes, and may perform procedures such as dialysis or kidney transplantation.
Monitoring: To monitor the progression of kidney disease and make adjustments to treatment plans as needed. The nephrologist in Chennai also monitors kidney function, blood pressure, fluid levels, and electrolyte balance to prevent complications.
Reasons to Consult a Nephrologist
If you are experiencing symptoms related to your kidneys or have a known kidney condition, it's important to see a nephrologist in Chennai for proper care. The symptoms of kidney stones include:
High Blood Pressure: Persistent high blood pressure can cause damage to the blood vessels in the kidneys over time, leading to kidney disease.
Swelling: Swelling in the legs, ankles or feet can be a sign of fluid buildup due to kidney problems.
Decreased Urine Output: A decrease in the amount of urine produced can indicate a problem with the kidneys.
Foamy or Bloody Urine: Foamy or bloody urine can be a sign of kidney disease or infection.
Back or Flank Pain: Back or flank pain can be a sign of kidney stones or other problems with the kidneys.
Fatigue or Weakness: Fatigue and weakness can be a sign of kidney disease or anemia. A nephrologist in Chennai can perform tests to provide proper treatment.
Nausea and Vomiting: Nausea and vomiting can be a sign of kidney disease or a related condition.
Unexpected Weight Loss: Unexpected weight loss can be a sign of kidney disease or a related condition.
Itching or Skin Rashes: Itching or skin rashes can be a sign of kidney disease or a related condition.
Difficulty Sleeping: Difficulty sleeping can be a sign of kidney disease or a related condition.
Treatment Procedures Provided by Nephrologist
A kidney specialist in Chennai provides a variety of treatments for kidney diseases and disorders, including:
Medications: They prescribe medications to manage kidney-related conditions such as high blood pressure, anemia, and other complications.
Dialysis: He/she may prescribe dialysis for patients with kidney failure. Dialysis is a procedure that removes waste and excess fluid from the body when the kidneys are no longer able to function properly.
Kidney Transplantation: A nephrologist in Chennai works with transplant surgeons to evaluate patients for kidney transplantation and manage their care after transplantation.
Interventional Procedures: They may perform interventional procedures such as angioplasty, stent placement, and embolization to treat kidney diseases and disorders.
Clinical Trials: He/she may participate in clinical trials to evaluate new treatments for kidney diseases.
Benefits of Seeing a Nephrologist
Some potential benefits of seeing a nephrologist include:
Early detection and diagnosis of kidney problems: Nephrologists are trained to identify and diagnose kidney-related conditions early on, which can help prevent more serious complications from developing.
Coordination of care: A nephrologist in Chennai often works with other specialists, such as diabetologists, transplant surgeons, and dialysis nurses, to provide comprehensive care to their patients.
Access to the latest treatments: They are knowledgeable about the latest treatments and technologies for kidney-related conditions, and can offer their patients access to the latest and most effective treatments available.
Improved quality of life: By providing effective treatments and management, a nephrologist can help improve the quality of life for individuals with kidney-related conditions.
Conclusion
Thus, if you have specific concerns about kidney problems it is very important to seek medical assistance after consulting with the best nephrologist in Chennai. You should not delay visiting a nephrology hospital like the Vinita Hospital as the experts here will manage and treat all kinds of kidney disorders to help you maintain good health.
Read also Best Diabetic Foot Care Hospital in Chennai.